Click on a photo to enlarge.
Related Products:
Porcellana for Portable Rail Saw
The Ultimate Wet Blade for Porcelain Tile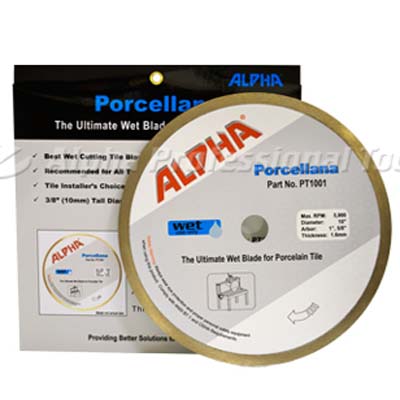 Alpha® Porcellana is our premium wet cutting blade designed for use by tile professionals. The diamond grits and matrix are specially formulated to cut granite, marble, engineered stone and porcelain tile with minimal chipping. The Alpha® Porcellana produces high quality cuts that will minimize waste and improve your bottom line. The 10" blade is equipped with a 10mm continuous rim, which provides for a long cutting life. When used properly, re-dressing of the blade is not necessary, which improves efficiency. All these features combined make the Alpha® Porcellana quite cost-effective.When cutting with the portable rail saw, with a 1" arbor, the Alpha® Porcellana is clearly the best choice for tile contractors.
| Part No. | Size | Thickness | Maximum RPM | Arbor(s) | MSRP$ |
| --- | --- | --- | --- | --- | --- |
| PT0801 | 8" | 1.6mm | 7,400 | 1",7/8",5/8" | 87.62 |
| PT1001 | 10" | 1.6mm | 5,900 | 1", 5/8" | 103.14 |